Model Equity Portfolio Aug 2022
Looking at the current macro-economic market conditions, we have constructed a rock-solid Model Portfolio for our esteemed HNI clients.
Overview:
The Model Portfolio consists of 6 thoroughly researched funds mainly in the Large & Mid cap categories with Overall exposure of 73% in Large cap, 20% in Mid cap and 7% in Small cap stocks (basis July '22 portfolio holdings).
The Model Portfolio has been built keeping in mind that there is minimum Positional Overlap (i.e. minimum Common Stock Holdings) between these 6 chosen funds, thus giving you a highly diversified portfolio of over 180 stocks across 25+ sectors including appx 5% in Foreign Equities, all in just 6 funds.
Performance & Risk:
This Model Portfolio has been Back-tested intensively along with testing under various Stress scenarios, such as the current Inflationary conditions, Russia Ukraine war, Lockdown (details below), and the results have been encouraging.
Not only has the Model Portfolio outperformed the Benchmark Returns (Nifty TRI) in all of these scenarios by a significant margin (24.13% CAGR for the period Aug 2019 – Aug 2022), but the Risk taken (Risk as a measure of Volatility/Std Deviation) to deliver the said Returns has been substantially lower than that of the Benchmark Index.
Appended herewith are the 3-Year Performance, Risk, Stress-Testing, Mkt Cap Allocation, Sectoral Allocation, and other details for your kind perusal, as under.
If you would like to invest in this "Higher-Return, Lower-Risk" Portfolio, (or for further details regarding the Model Portfolio), please reach out to us over email or phone call, and we'll be happy to initiate the same for you immediately.
Overall Performance
Stress Scenarios
Inflation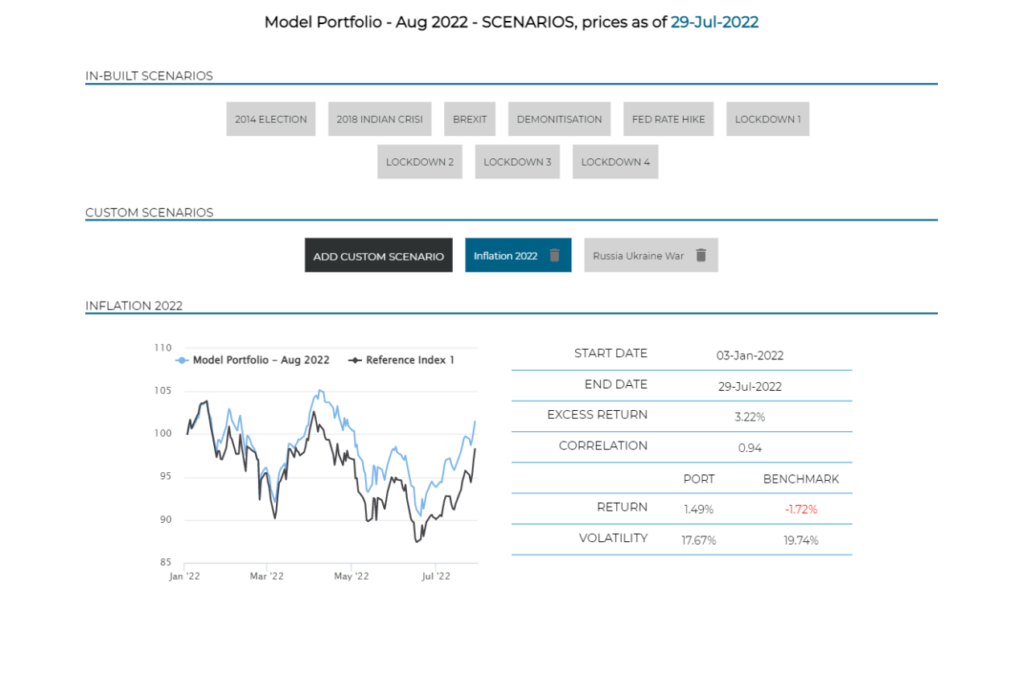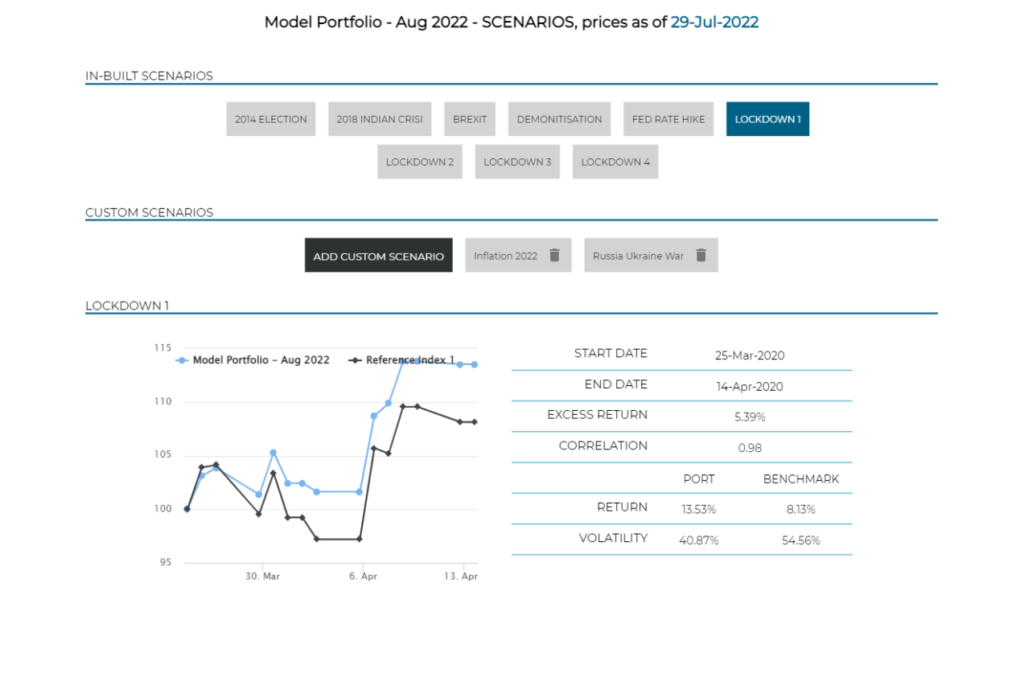 About Blue Lake Capital & Blue Lake Capital Management LLP
We are a boutique wealth management outfit dedicated to growing the wealth of our valued clients. BLCM focusses on a niche of Ultra High Net Worth Individuals, Family Offices, Trusts and Institutional Investors who trust us to be diligent stewards, to protect and grow their wealth.
The firm boasts of an upbeat track record in the Global Capital Markets and it's core value of Wealth generation for it's esteemed investors with highest ethical standards and global practices. Although experts in the Indian and US Capital Markets, we pursue opportunities in other major Global Markets, alternative Asset classes and the "new-age" Digital assets.