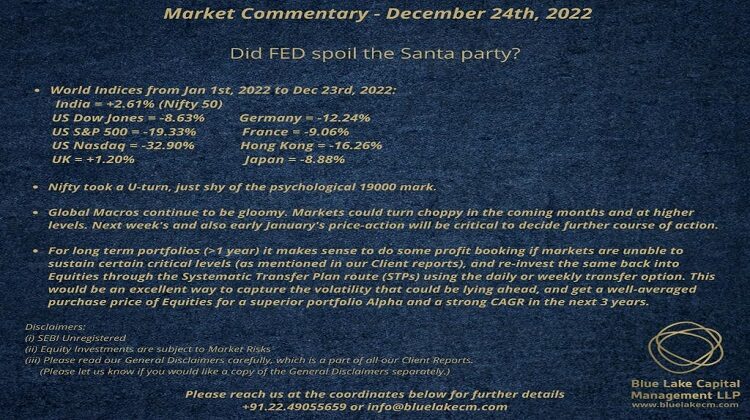 December 24th, 2022 – Did FED spoil the Santa Party?
World Indices from Jan 1st, 2022 to Dec 23rd, 2022:
India = +2.61% (Nifty 50)
US Dow Jones = -8.63%
US S&P 500 = -19.33%
US Nasdaq = -32.90%
UK = +1.20%
Germany = -12.24%
France = -9.06%
Hong Kong = -16.26%
Japan = -8.88%
Nifty took a U-turn, just shy of the psychological 19000 mark. Global Macros continue to be gloomy. Markets could turn choppy in the coming months and at higher levels. Next week's and also early January's price-action will be critical to decide further course of action.
For long term portfolios (>1 year) it makes sense to do some profit booking if markets are unable to sustain certain critical levels (as mentioned in our Client reports), and re-invest the same back into Equities through the Systematic Transfer Plan route (STPs) using the daily or weekly transfer option. This would be an excellent way to capture the volatility that could be lying ahead, and get a well-averaged purchase price of Equities for a superior portfolio Alpha and a strong CAGR in the next 3 years.
Disclaimers
(i) SEBI unregistered
(ii) Equity Investments are subject to Market Risks
(iii) Please read our General Disclaimers carefully, which is a part of all our Client reports. Do let us know if you would like a copy of the General Disclaimers separately.